Kocoono as seen and heard on Today FM
Do you have problems sleeping? Are you looking for help to relax and de-stress? Well there's a Mayo woman who's hoping she has the answer! Emer Flannery from Kocoono joined Mairead in studio to tell her all about the weighted blankets she's been making.
Emer first learned about weighted blankets when she made one for a child she was working with who has autism. The blankets provide deep touch pressure which has a wonderful calming effect on whoever is wearing it. What's different about Kocoono's blankets is that they are customisable - the weights can be removed and swapped for higher or lower weights, or they can be put in the freezer to add a cooling effect to the blanket.
Weighted blankets are great for aiding sleep and relaxation, and reducing stress, and when the cold weights are added in, it can be used in the summer and provide relief during pregnancy or menopause, and also for sports injuries.
Emer brought one of her Kocoono blankets in and as you can see, Mairead really enjoyed it!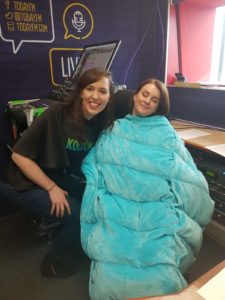 Emer started a Kickstarter last week to get things up and running at Kocoono, and you can donate and get some deals on the blankets and shoulder weights by clicking here.
We got an update from Emer after she spoke to Mairead, her Kickstarter target was met!
By ORLA ORMOND
---